Around July 2016 I picked an interest in coloring books. I've always liked coloring, it's like revisiting the childhood, but with all the new skills and way more control over my hand. Strangely enough, I don't like drawing, it's never been an appealing activity for me. (And here I am, studying design!). Filling things with color is a different story though.
In October I got Johanna Basford's planner, that features selection of her images from three bigger books. Each week there's a different picture to color, and that's where it started for real. I've been mostly able to keep up until now. I skipped a few weeks here and there, but for the most part pictures have been regularly filled with color. I'm quite surprised I managed. I love it so much.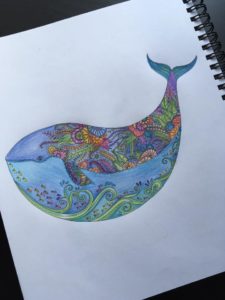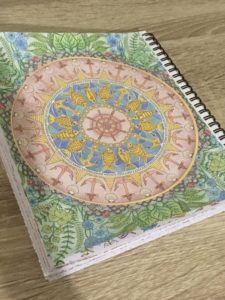 (The first picture I completed and one of the latest)
About a week or two ago I got an idea to make some League of Legends characters in fuse beads. My friend has been doing a lot of those geeky patterns last year, and I was super skeptical about it back then, I didn't want to join that silly activity. But now I grabbed some of the leftovers and started working on my own ideas. Without patterns. I was warned that doing those without patterns is difficult, but it's not. It's challenging and super fun, when I "agonize" for days whether it should be that or a different way. So satisfying!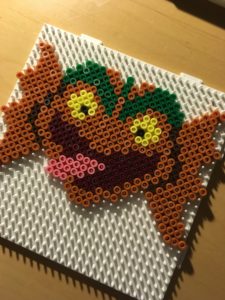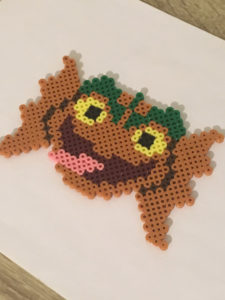 (First try and final version on Skarrl [
reference pic
])
All these activities are so deeply satisfying, and I wish I could do that forever! It's a very similar feeling I got when I was working on my Halloween costume two years ago, when I was building Officer Vi gauntlet. It was so fun I didn't see the time going by, ending up in going home at 3 AM.
Last week we did a pretty awesome analogue presentation wall for our external tutors. It was so much fun to work on! It wasn't easy and took a lot of hours, but I'm proud of what we achieved. It looked majestic. I really prefer all this analogue, paper stuff over constantly working on the computer, and also instead of just working on school projects.
My school definitely helped me to come in terms with creativity. Now I feel I'm allowed to call myself a designer. Before that I was only occasionally making scrapbooking-style Christmas/birthday cards, in addition to occasionally working on some simple graphic design stuff. I never thought much of it, but thanks to studying design I started appreciating all these creative side hobbies, some that I developed thanks to the newly-found confidence. But after this long Easter weekend when I dived into all these pleasant creative hobbies and home decor, I don't want to go to school again. School feels like so much struggle right now. The projects we're doing are interesting, but they don't make me get that same spark I get when I work on my solitary activities. I'm socially tired again, being around people all days drains all my energy. Every week is a fight until the weekend when I can just shut my door and focus on my hobbies and activities that really bring out my love for creating things.
I wonder if it all feels good just because it's a hobby and stuff I want to do for myself, not stuff that  I'm required to do.